Air duct cleaning is a simple way to make your AC more efficient and save money.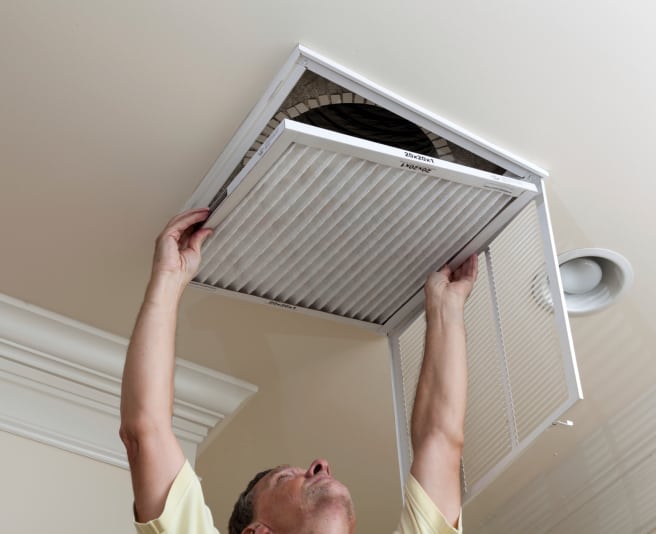 Here at AC Guys Cooling and Heating Services, we understand that no one wants to spend more than they have to for basic necessities like their power bill. A large percentage of the electricity you use every month is likely going to your heating and cooling system, so a good strategy to lower that bill is to make sure your system is operating as efficiently as possible. One simple way to do this is to have regular air duct cleaning. Over time, your air ducts become clogged with dust and debris, forcing your AC or furnace to work harder in order to circulate air through your home. Air duct cleaning removes this dust and debris build-up and allows the air to circulate more freely, saving energy and money.
Our team at AC Guys Cooling and Heating Services has over 30 years of experience in the industry. We are highly familiar with the duct cleaning process and its benefits. In addition to making your system more efficient, regular duct cleaning can also have a positive impact on your health–some of the stuff that collects in your air ducts includes pathogens like bacteria, pet dander, mildew, or mold, all of which can trigger allergy symptoms. Cleaning these pathogens out will help everyone in your home breathe a little easier.
We at AC Guys Cooling and Heating Services are proud to serve the Leesburg, Florida community, and we want to help you save money and keep your family healthy. If you are interested in the benefits of our duct cleaning services, just give us a call to learn more.
---
At AC Guys Cooling and Heating Services, we offer duct cleaning services in Winter Garden, Casselberry, Marion County, Winter Park, Leesburg, Orlando, Clermont, Seminole County, Maitland, Orange County, Ocala, Lake County, Lake Mary, Longwood, Sanford, Apopka, Zephyrhills, Minneola, Tavares, Mount Dora, Montverde, Heathrow, Windermere, Astatula, Lake Buena Vista, Ocoee, Gotha, Groveland, Tangelo Park, Winter Springs, Eustis, Mascotte, Bushnell, and Tangerine, Florida.