Regular duct cleaning in Clermont, FL can keep dust, dirt, mold spores, and other allergens from circulating through your home or business' air.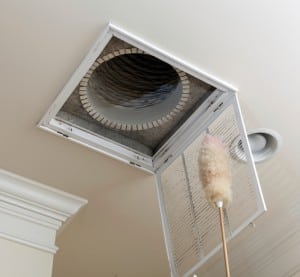 Duct Cleaning in Clermont – The HVAC system in your residential or commercial building does a lot of work to circulate air throughout your property's interior on a daily basis. It starts by pulling air through the ducts from the return, then pushing it out through the vents throughout the building. Since the air can recirculate multiple times per day, it is important that the ducts are clean. Otherwise, you might be breathing in dirt, dust, mold spores, and other allergens.
Luckily, duct cleaning can remove all traces of dust and dirt from your system. However, it does require special equipment, so it's best to leave things up to us at AC Guys Cooling & Heating Services.
There are a lot of reasons why you might need duct cleaning. For example, if you have had any water damage or leaks in your home, the dampness can spread into the ducts and cause mold to grow. When the air conditioner or heater runs, the air will become contaminated with mold spores, which can lead to serious allergic reactions for those breathing in the air. You might also notice dust and dirt buildup on vents or returns in the space, which is a clear sign that duct cleaning is a necessity.
Our team recommends duct cleaning at least once every five years, although if you have pets or people in your home suffer from allergies, cleaning services are recommended even more often to remove hair, dander, and other allergens. We offer our services to those in Clermont, Florida and many of the surrounding cities, so call us today to learn more about our available options.
---
At AC Guys Cooling and Heating Services, we offer duct cleaning services in Winter Garden, Casselberry, Marion County, Leesburg, Winter Park, Orlando, Clermont, Seminole County, Maitland, Orange County, Ocala, Lake County, Lake Mary, Longwood, Sanford, Apopka, Zephyrhills, Minneola, Tavares, Mount Dora, Montverde, Heathrow, Windermere, Astatula, Lake Buena Vista, Ocoee, Gotha, Groveland, Tangelo Park, Winter Springs, Eustis, Mascotte, Bushnell, and Tangerine, Florida.