We recommend duct cleaning every three to five years, or more often if you have pets or smokers in your Lake County, FL home.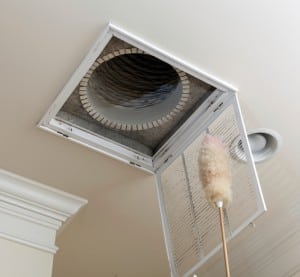 Duct Cleaning in Lake County – Today's homes are more insulated, which can lead to problems with indoor air quality. Other contributors to poor air quality are contaminants that are brought into the home on a regular basis. Over time, these contaminants and pollutants can build up in your home and be circulated over and over again through the air. One place they land and can become a real problem is your Lake County, FL home's HVAC duct work. This is why routine duct cleaning is so important.
At AC Guys Cooling & Heating Services, we recommend duct cleaning every three to five years, or more often if you have pets or smokers in your home. It should also be the first thing you have done after moving into a new home.
Our duct cleaning services will remove such things as dust, mold, mildew, pet dander, dust mites, tobacco smoke buildup and other contaminants that can seriously affect the indoor air quality in your home. Some of these contaminants can even adversely affect the health of your family members, especially those with respiratory concerns, such as allergies or asthma.
Duct cleaning done regularly is also beneficial because your HVAC system has to work harder if the duct work is not clear. This can cause higher utility bills and repair costs, as well as a need to replace the unit months or even years earlier than usual. Some debris can even be an invite to rodents and/or insects, which can cause damage to your home. If you would like your duct work inspected and duct cleaning performed if it is needed at that time, give us a call to schedule an appointment.
---
At AC Guys Cooling and Heating Services, we offer duct cleaning services in Winter Garden, Casselberry, Leesburg, Marion County, Winter Park, Orlando, Clermont, Seminole County, Maitland, Orange County, Ocala, Lake County, Lake Mary, Longwood, Sanford, Apopka, Zephyrhills, Minneola, Tavares, Mount Dora, Montverde, Heathrow, Windermere, Astatula, Lake Buena Vista, Ocoee, Gotha, Groveland, Tangelo Park, Winter Springs, Eustis, Mascotte, Bushnell, and Tangerine, Florida.