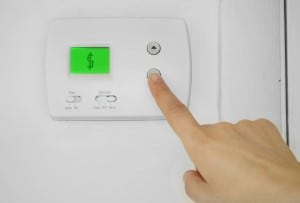 One of the most dreaded things about summer can be the costs associated with air conditioning in your home. Even if you have the most efficient air conditioning money can buy, there is still going to be a rise in your energy costs over the hot summer months. If you want to help to save money on your air conditioning costs, here are 5 ways to help you cool down without your bank account drying up.
Add solar screens to your windows. This simple addition can save you up to 70% on your home's air conditioning costs, according to the U.S. Department of Energy. Window films placed on windows that receive a lot of sun are also another option, since they reflect heat before it can be transmitted through glass. Keep in mind, however, that windows must be closed in order for the screens and film to be effective.
Skip the dryer for your clothes and limit use of your stove and oven. Reducing the use of heat-causing appliances can keep your house cooler. Instead, use an outdoor line to dry your clothes or opt for a toaster oven or slow cooker for meals on hot days.
Improve the plants around your home. Most heat that accumulates in your home is due to it coming in directly from windows. In order to combat the sun's rays, take advantage of your home's landscaping and use large leafy trees and ferns to stop the sun from coming inside. What you may spend at the plant nursery on greenery, you will get back in dollars saved on your cooling costs, and also you will add valuable curb appeal to your property.
Buy a programmable thermostat. What's the point of cooling your home all day when you're not there? Buy a thermostat that allows you to program when to start your air conditioning and when to give it a rest. Rest your cooling systems while you're out at work and set it to start cooling your home again 30 minutes before you come home. You won't notice the air conditioning difference, but your energy bill will!
Make sure you are using a newer, energy-efficient air conditioning unit. If you have an older air conditioner, consider replacing it for a model that is Energy Star rated. Doing a simple replacement can cut your energy costs in half!
If you want to know more ways to save money on your air conditioning costs, call us at AC Guys Cooling & Heating Services in Winter Garden, Florida. We are fully equipped to handle all of your home's cooling needs.
Save