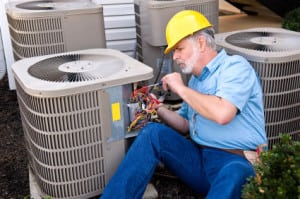 There are a few people you should keep on speed dial– your mom, your boss, and your air conditioning contractor. While it is typically a good idea to call your air conditioning contractor for seasonal upkeep and maintenance (a practice in prevention that can save you a lot of time and money long-term), there are also a few things you can check on your own to save yourself the service fee.
While most of us would call our air conditioning contractor at the first sight of trouble, first take a look yourself. Check your thermostat to make sure it's changed to cool and not heat. Consider how foolish you felt when the TV repair man came and immediately found the problem– an unplugged TV. It's kind of the same thing. Many of us forget to change the setting from heat to cool and feel pretty silly when the air conditioning contractor points out our oversight.
Next, make sure there is nothing blocking the drainage tubes. If this is in fact the problem, it's a very easy fix you can do on your own. Make sure there is no standing water, debris, or dirt that is in the way, reducing the efficiency of the AC. A drainage tube can be very easily replaced. It can also help the AC run better if you have given it a thorough cleaning.
Cleaning your ducts can also make a big difference in the air quality you are able to feel. Once you have checked all these things, if the AC unit is still not working properly, now is the time to call our air conditioning contractors at AC Guys Cooling and Heating Services. There are a whole slew of problems that can go wrong with the air conditioning unit that only a professional can diagnose and fix. Usually, waiting too long to call and running a unit that has a problem only aggravates the problem, costing you more money and time without the AC in the long run. Once you've done the easy fixes, call us in for the difficult stuff. We are on your speed dial for a reason!