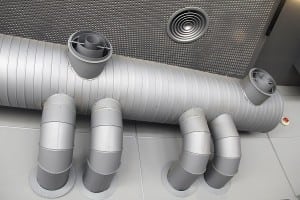 If April showers bring May flowers, what do May flowers bring? Pilgrims! April showers, May flowers and corny seasonal jokes can mean a number of things, but in this case it means that spring is here! And with spring comes spring cleaning. Out with the old junk, clean those hard-to-reach places that haven't been touched in months, and get your house spic and span.
Even with the detailed approach of a good spring clean, it's easy to overlook the ducts. Duct cleaning is something that is best left to the professionals, but if your sleeves are rolled up, your hands are already dirty and you've got the ambition to try, follow these steps.
Assemble the tools (and the troops) — For duct cleaning, you don't need any special cleaner– just some soapy water or water with bleach or ammonia. You'll also need a brush, cloths or rags, zip ties, and something to reseal the ducts. Mastic or thinset adhesive will work. You'll also need a half hour or so for each duct, so recruiting some help to make the work go faster may be a good idea.




Get down to the nitty gritty — First remove the inner and outer duct liners and employ a little elbow grease (or your back-talking teenager) and scrub away. It's best to wipe the liners clean with the cloths or rags in place of spraying or soaking them. While these are drying, you can try to clean the inside area of the duct. You will only be able to clean as far as you can reach, so if that teenager has longer arms than you, consider using them for this part, too. Once you are satisfied with what you've been able to clean, begin reassembling.
Put it all back together again — It's important after you have taken the ducts out that you properly put them back in place. They need to be resealed around the edges in order to avoid leakage and the entrance of unwanted pollutants into your home. Reseal by using a brush to apply to mastic adhesive.
The major downside to this duct cleaning method is that it only cleans the area you can see—not the full length of the ducts. Let's be honest– that's all anyone does when spring cleaning anyway, but do you really want to scrimp on your family's health? Call us at AC Guys Cooling & Heating Services for professional duct cleaning instead for a thorough clean, from end to end!