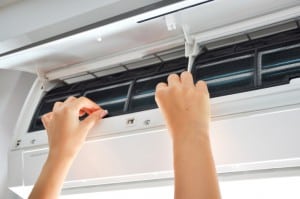 While you're preparing your home for the warmer temperatures that will soon be on their way, don't forget about your HVAC system, as well. Below are some things to do to prepare it for spring and summer.
Check the Ductwork: This is an important part of AC units. Make sure any holes or cracks are sealed, and that the connectors in the duct system are in good condition.
Replace the Filters: This is actually something you should do at least once a month when you are using your system – not only to prepare for the warm weather ahead. Dirty filters make AC units work harder than they need to.
Clean Around the Outdoor Compressor and Clear any Obstructions: The outdoor compressor is the most important element of an air conditioner. Clear any obstructions, including debris like leaves and plants.
Test the System: When blistering days arrive, AC units are really put to the test, so rather test yours before by running it for a while. If there are any issues, you'll have a heads-up before summer arrives in full force.
Schedule an Annual HVCA Tune-Up: Having a service and maintenance contract with us at AC Guys Cooling & Heating Services is the best way to keep your system in great shape!
Whether you need a new heating and cooling system, or repairs/maintenance on your existing system in the Winter Garden area of Central Florida, contact us at AC Guys Cooling & Heating Services. We are on call 7 days a week – no extra charge for weekend or evening callouts!