The Department of Energy says that if you combine upgrades with recommended insulation, along with proper equipment and maintenance, you can cut your energy consumption for heating & cooling by 20 to 50 percent, plus significantly reduce environmental emissions. Also do the following: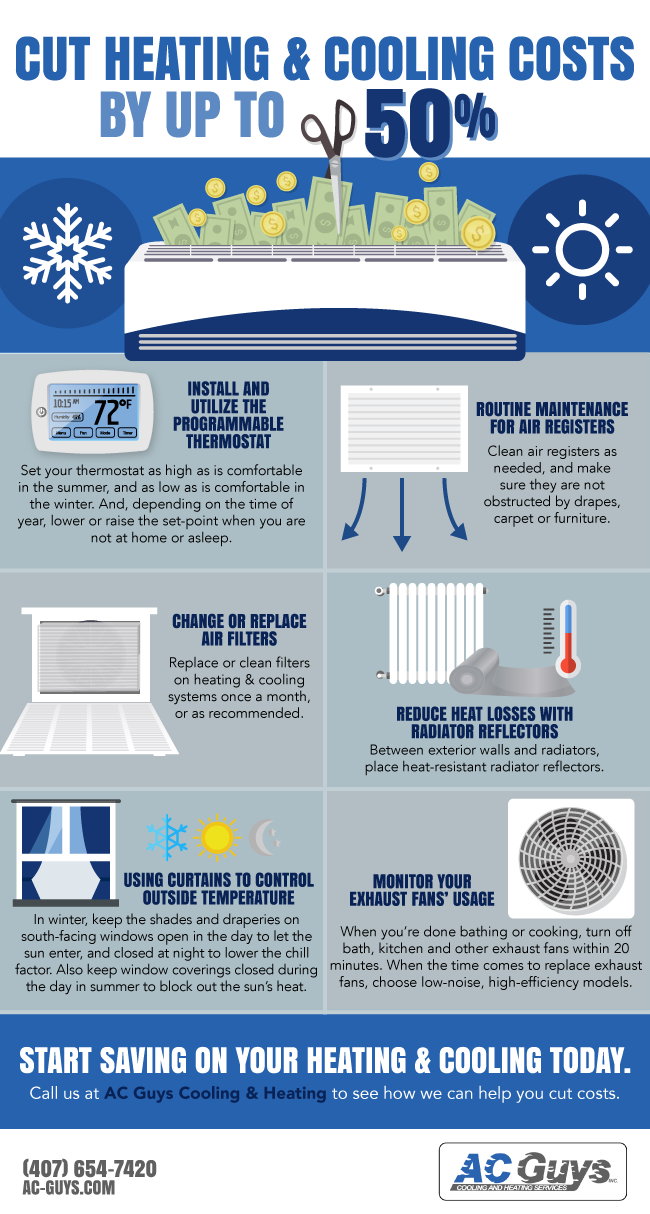 Set a programmable thermostat as high as is comfortable in the summer, and as low as is comfortable in the winter. And, depending on the time of year, lower or raise the set-point while you are asleep or when you are not at home.
Clean air registers as needed, and make sure they are not obstructed by drapes, carpet or furniture.
Replace or clean filters on heating & cooling systems once a month, or as recommended.
Between exterior walls and radiators, place heat-resistant radiator reflectors.
In winter, keep the shades and draperies on south-facing windows open in the day to let the sun enter, and closed at night to lower the chill factor. Also keep window coverings closed during the day in summer to block out the sun's heat.
When you're done bathing or cooking, turn off bath, kitchen and other exhaust fans within 20 minutes. When the time comes to replace exhaust fans, choose low-noise, high-efficiency models.
Whether you need a new heating & cooling system or maintenance/repairs on your existing heat pump or air conditioner, our team at AC Guys Cooling & Heating Services is on standby 7 days a week in the Winter Garden area of Central Florida. There's no extra charge for weekend or evening callouts!