One of the most important parts of being a consumer is being an informed one. When purchasing a new air conditioning unit, it is imperative that you find air conditioning contractors you can trust. However, you should still always ask them questions, so you know you're getting the best service and unit for your home.
Question #1: Always ask if the air conditioning contractors are specifically licensed to do air conditioning work. Never work with air conditioning contractors who do not have a license because the odds are that you will not receive quality work and service. Also, you should immediately reject anyone who does not have certification in Freon refrigerant gas, as this is required by Federal law.
Question #2: Ask the air conditioning contractors how they intend to size your unit. Air conditioning contractors should always calculate the actual cooling load for your home, rather than suggesting that you replace your current unit with the same one, or assessing needs by your home's square footage.
Question #3: Ask if the air conditioning contractors intend to test for duct leakage. A qualified contractor will not only assess the needs of your home, but make sure that duct leaks will not interfere with the efficiency of your new unit.
Question #4: Ask if the air conditioning contractors can provide references from other happy customers. If your air conditioning contractor has done great work before, they should have no problem providing you with references from previously satisfied clients.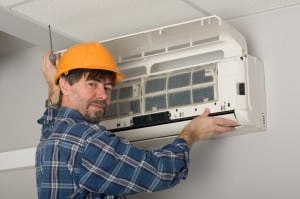 Above all, never be afraid to ask any contractor coming into your home questions you have about your home's systems. Knowing the right questions to ask will help you not only to pick the best air conditioning contractors, but also allow you to get the best value and service for your new unit.
At AC Guys Cooling & Heating Services in Winter Garden, Florida, we are proud to offer our clients only the best in professional service. Call us today to make an appointment with one of our air conditioning contractors and help you get started in repairing or replacing your home's air conditioning unit today!