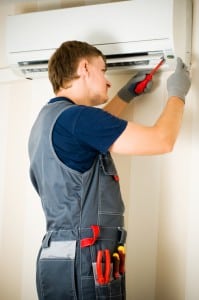 It's not that difficult to tell when you need air conditioning repair for your cooling unit. Chances are, if you're not feeling cool air coming out of your vents once you've turned down the temperature on the thermostat, something is probably wrong. However, sometimes small changes in your air conditioning's operation can leave you wondering if you need complete air conditioning repair. Here are 3 signs that will help you determine if you need to call us to look at your home's air conditioning unit.
No cool air is coming through the vents. This sign is a no-brainer. If you turn down your thermostat in your home and realize that no cool air is coming through your vents, chances are, your cooling system is not operational. Lack of cool air could mean a variety of things, including that your air conditioner's compressor has failed or the Freon levels are too low. Either way, if your air conditioner is simply not doing its job, it's time to call us for air conditioning repair.
Unwanted moisture. Water leakage and pooling around your air conditioning unit can cause a variety of problems. In some cases, the leak could be refrigerant, which can cause serious health risks to your family members. Other moisture occurrences can include water pooling caused by condensation blocking the drain tube. Though not a serious issue, water pooling can lead to more serious problems, such as mold growth.
Odd noises. A well-maintained air conditioner makes very little noise when operating. If you hear grinding, rattling, grating, or squealing sounds from your unit, chances are it's in need of air conditioning repair. Unusual noises imply that there is something wrong with the mechanics of your unit, and failure to address these problems quickly can lead to needing to replace the unit in its entirety.
If you suspect your air conditioner is on the fritz, call us at AC Guys Cooling & Heating Services in Winter Garden, Florida. Our trucks are well-stocked to deal with repairs on the first visit. We work 7 days a week and charge no premiums for weekend or extended hours. Call us today to book your air conditioning repair appointment and get your unit working again!