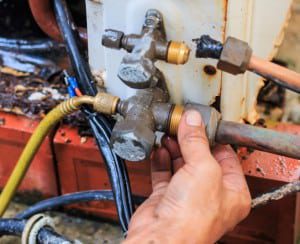 Any time is better than never, but the ideal time to budget for air conditioning repair and service is spring. Early maintenance can prevent small issues from becoming costly ones later on. Moreover, if your AC checkup is scheduled for spring, you can beat the higher prices that often come with peak season emergency callouts.
There are 2 main reasons for scheduling annual AC maintenance with your local cooling and heating contractor. They are saving money and saving money – no that's not a typo! To begin with, you significantly increase the chances that the technician will identify small problems before they become major air conditioning repair issues.
The other way that annual checkups save money is by ensuring that your air conditioner is working at maximum efficiency. When it's running well, it needs less energy to cool your home, and less energy means more savings for you on your monthly utility bill.
It's easy to schedule an AC checkup. Just call us at AC Guys Heating & Cooling Services and ask about basic maintenance. As we've already said, a great time for this is in spring or early summer, before everyone else switches their systems on in the heat, only to discover they need unexpected air conditioning repair.
Whether you need a new heating and cooling system, or repairs/maintenance on your existing system in the Winter Garden area of Central Florida, contact us at AC Guys Cooling & Heating Services. We are on call 7 days a week – no extra charge for weekend or evening callouts!